Prayers for the family of Andrew Boldt, 21, of West Bend Wisconsin, who was killed today in the Electrical Engineering building at Purdue University.
Yours truly was face timing with kid number 2, today, when some warning sirens on the men's portion of Earhart hall blared, and a text message came across her phone, warning the students of a shooting at EE, and to shelter in place.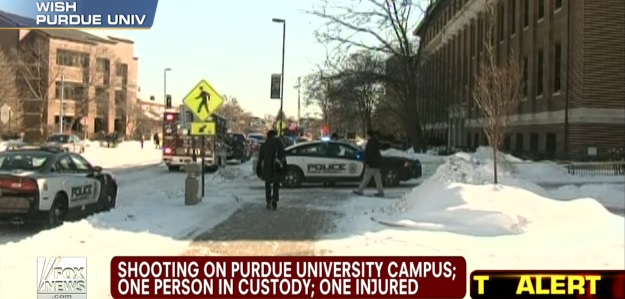 FOX news tells of students freaking out, but this appeared not to be the case in Earhart hall. The girls daily routine went on uninterrupted, as they waited patiently for further info. None of them appeared panicked. Within minutes, they appeared aware that the crime was a single incident, and not a terrorist or psycho attack. Kid number 2 was texting a friend and making plans to meet at lunch. Her room mate had come back from lunch, dropped by the room and was planning to head out again.
The suspect, 23 year old Cody Cousins of Warsaw, IN surrendered to police outside the building within minutes of the incident. Activities of the university resumed very quickly, with only the EE building remaining locked down for a bit longer.
The reality at Purdue was not so much panic and terror as the news media would suggest. Even the film outside of the EE building showed students going about their usual business bypassing a clot of police cars and emergency vehicles.
A candlelight vigil was held outside in the blistering cold tonight to express sympathy for the family and friends of Andrew Boldt, the victim of violence.  The family of Cody Cousins is  probably in a state of misery too, and both families need prayers.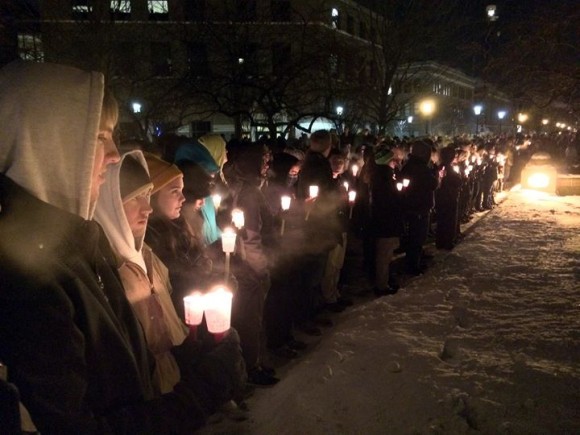 More Grief, less panic.
While classes are suspended at Purdue tomorrow maybe people should remind themselves that killing royally screws everything up forever, and that is the objective reason not to do it.  That'll do till people get their religion back and recognize more good reasons to respect life.