What is it? A flavor of ice cream which was offered at the Penn State Creamery until a few days ago.
TheBigLead.com featured a story about the Sandusky Blitz, which is banana flavored, caramel swirl with chocolate covered peanuts. This flavor has been pulled, though the Peachy Paterno flavor remains.
It appears that Sandusky had become a legend at Penn state, from the ice cream evidence, for more than his coaching role.
Also at the Big Lead is another conceptualization of the ultimate dessert in honor of Jerry Sandusky, an image with which Rush Limbaugh regaled his audience, while unknowingly agreeing with Pharmer that MUCH more is to come out of this Penn State Scandal.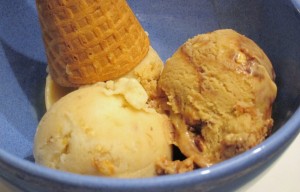 Related: Sandusky lives next to an Elementary School, and was released on unsecured bond.
Related: The Citadel Military College in South Carolina has announced a missed opportunity to catch an alleged pedophile, one Louis "Skip" Reville, four years ago. Reville, a principal at Coastal Christian Preparatory School, is currently charged with six felony offenses separate from the offenses reported while he served as a camp counselor at the Citadel (from which he had graduated).